Hoist Finance (HoistSpar) is looking for an AML Analyst to be an important member of the growing HoistSpar team.
Due to growth of the HoistSpar business the company is looking for an ambitious person to join their AML team. The position reports to the Head of HoistSpar and is placed at the Stockholm office.
The AML market is a growing area and at HoistSpar this is a broad position where you get good opportunities to develop and grow together with other driven and ambitious employees. HoistSpar is a part of the Treasury function.
The role
You will manage daily operations and AML related activities, and work continuously to counteract and detect money laundering among deposit customers across all markets where they offer savings accounts.
Main areas of responsibility
Perform relevant transaction monitoring
reporting of suspicious transactions and behavior to the FIU together with the AML team
Perform ongoing due diligence
Enhanced due diligence on high-risk customers
Regularly develop internal routines related to KYC and AML
Involved in the transfer and implementation of a new AML system
Desired skills and experience
An eye for details and analytical capabilities
A strong desire to develop within the AML area
Good knowledge of MS Excel functions
Fluent in Swedish and English
Self-motivated and fast learner
Ability to build relationships both internally and externally
Thriving when working in a changing environment
A curiosity to learn new things and a proactive mindset
An education in Economics or Law, is preferred
You have knowledge, or are familiar with AML or KYC
Interested? Please, apply as soon as possible at www.boardtalk.se. Do you have questions or want to know more? Contact Sandra Bärkroth at Boardtalk (sandra.barkroth@boardtalk.se or 073-817 23 33) or Mats Holmberg (mats.holmberg@boardtalk.se or 072-853 23 13).
About Hoist Finance
Hoist Finance is a trusted debt restructuring partner to international banks. In plain language this means that Hoist Finance purchase consumer bank loans that are not being repaid. In doing so, the company free up resources and reduce risk for their partners, the banks, contributing to a stable financial system. Hoist Finance also support customers, the debtors, in becoming debt-free through what they call amicable settlements. The aim is to find a realistic payment plan in an open and respectful dialog with the customer, so they can get back on their feet with dignity.
Hoist Finance employees are driven by a common purpose – to develop and foster long-term relationships built on mutual trust. With high ethical standards, compliance with the financial regulatory framework, and behavior based on transparency and respect, the company ensure that they earn the trust of our stakeholders every day.
Thanks to their credit market license, Hoist Finance can offer a deposit service through HoistSpar, which makes up for 70 % of the funding for their portfolio investments. HoistSpar offers savings accounts with fixed and flexible interest rates at competitive terms to private individuals and corporates in Sweden, Germany, and UK. If these are things that make your heart beat a little faster, then maybe Hoist Finance is the place for you.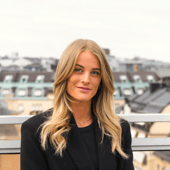 Kontakt
Sandra Bärkroth
Interim Finance / Rekryteringskonsult – Interim Finance
Om Boardtalk
Boardtalk är ett rekryteringsföretag som riktar in sig på specialistrekryteringar inom affärsområdena Finance, Real Estate samt HR. Vi erbjuder även våra kunder interimslösningar vid behov.

Läser in ansökningsformuläret